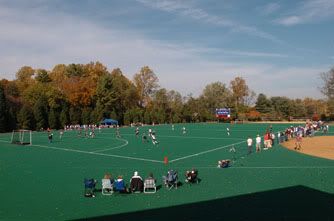 The William I Jacobs Complex
In the fall of 2005 American University athletics unveiled a new home for its nationally ranked field hockey team and women's lacrosse team, when the William I Jacobs Recreational Complex was opened.
On Sept. 3, 2005 AU's field hockey team hosted the Princeton Tigers for the first athletic contest on the new field, a game in which the Eagles emerged victorious 4-1. AU's field hockey team also earned the right to host the 2005 Patriot League Tournament on November 6-7, where American defeated Lehigh 7-0 in the semifinals before capturing the league crown for the third straight year by downing Holy Cross 4-2 in the Championship Game. AU's women's lacrosse team played its first game on the new field on March 1, 2006 when they hosted the Towson Tigers.
The Eagles' field hockey squad had spent close to the last decade practicing and playing their home games on the turf fields of local colleges and universities. The field, which was made possible through a generous gift by American University alum William I Jacobs, finally gave AU Field Hockey a place to call home, eliminating early morning practices and having to travel for home games. After years of playing on Reeves Field, American's women's lacrosse team also calls the complex home, completing its first full season on the turf in the spring of 2006. American will also now have the opportunity to host Patriot League Tournaments and put in bids to host rounds of the NCAA Tournament in both field hockey and women's lacrosse.
The state-of-the-art facility features an Astroturf playing surface, a brand new softball diamond and two outdoor sand volleyball courts. In addition to varsity athletics, AU's club softball team also uses the field along with intramural flag football and softball.
Features of the William I Jacobs Recreational Complex:
A brand new Astroturf 12 playing surface
State-of-the-art Daktronics scoreboard (made possible through a gift from AU alum Cindy Christy)
Advanced watering system that will provide irrigation and keep the field wet during matches and practice
Scorers/Press area with a full compliment of electronics support including wireless internet
Softball diamond and two outdoor sand volleyball courts for AU students and intramural programs